Sophisticated Beauty For Your Memorial Display
Glass urns are hand blown and crafted with as much care and attention as the most elegant works of art. That's why glass urns make perfect memorials to the most special of loved-ones. Glass urns are typically displayed indoors and, besides being a special memorial, they are also designed to bring elegance to any memorial display.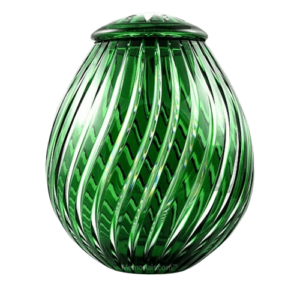 Glass ash vessels are particularly appropriate for memorializing a loved-one because they can be personalized. Glass urns can be made in a variety of shapes and styles and, because they are all hand blown, each has its own unique qualities – just as the person it memorializes. Glass urns can be blown into any number of shapes, and they often take the form of beautiful, elegantly sculpted vases that can pay lasting tribute that is timeless and unforgettable. Glass urns can be made in a surprising array of colors and styles that make them perfect for capturing any person's unique personality.
While their special beauty and elegance makes glass urns unlikely candidates to be buried, they do offer a surprising sturdiness. Glass urns, properly cared for, will last for generations as gorgeous centerpieces to a touching memorial display. Being made of a material that can survive the elements, glass urns can keep memories alive for centuries. Protected by a glass urn, a loved-one's the memories can last about as long as the Earth itself. It is for this reason that glass urns may be most attractive for those wanting to preserve their loved-one's legacy for as long as possible.
Glass cremation urns are commonly found in a vase shape, like that of a traditional urn. With this shape, glass urns allow families to participate in the centuries of traditions that urns have inspired. The traditional urn's shape, for example, has brought forth a number of great literary works, including John Keats's "Ode to a Grecian Urn," which classically relates the unique décor of almost every funeral urn ever made to mankind's eternal struggles with mortality. (That poem, by the way, is said to not be about one particular urn, so it could very well apply to a glass urn as to any other style of urn.)
Whatever the shape, glass urns are all blown and crafted with the greatest of care. Glass ash urns require a craftsman's special touch and they are often formed from blowing techniques that are hundreds (or possibly even thousands) of years old. This connection with age-old traditions assures that glass urns always have a timeless quality that is so important for a lasting memorial. Timeless production processes, along with artwork that will surely stand the test of time, are what make glass urns an excellent choice for many people wanting to honor the life of a loved one.
Glass urns are a fine, popular choice for people who want the beautiful, elegant tribute that will assure a loved-one's memory will last for generations to come.