Perfect For Small Amounts of Cremation Ashes & Special Memories
Keepsake urns are simply smaller versions of traditional cremation urns. In recent years, many far flung families have found that keepsake urns offer a great way to memorialize loved-ones in several locations, while still capturing – and even complimenting – all of the tradition and history that traditional urns offer.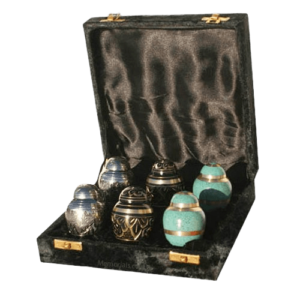 By sharing a loved one's ashes in several keepsake urns, even families that are scattered across the globe can assure their precious memories stay alive for years to come. Keepsake urns can also be a comfort to families of loved-ones whose ashes are to be scattered over some special place or at sea.  Families commonly place a small portion of those ashes in keepsake urns that are then displayed in private residents or some other location, just as a traditional urn would be. Psychologists say that having one special place in which to memorialize a person is often vital for the families of loved-ones, and keepsake urns often serve as beautiful, special highlights for such places.
Keepsake urns allow families to participate in all of the history of traditional urns, a popular way to memorialize the dead for centuries. Keepsake urns can be reminiscent of any number of ancient cultures, such as the Ancient Greeks who made cremation urns from a special type of urn called a lekythos. Keepsake urns, like traditional urns, can be modeled after those, or any other style.
Keepsake urns can also be elaborately decorated to bring back the memories and emotions that have inspired a number of great urn-related literary works over the centuries. Fans of John Keats's classic poem "Ode to a Grecian Urn," for example, will relate as well to keepsake urns as to their larger cousins.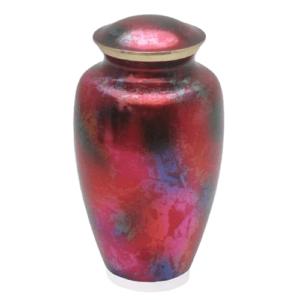 Like traditional urns, keepsake cremation urns can be designed and decorated to follow important religious, military, or family themes.  Keepsake urns come in a wide variety of materials and styles. Keepsake urns can be made of wood, bronze, metal, marble, glass, or ceramic.  Keepsake urns are particularly appropriate for memorializing a loved-one because they can be personalized. The décor of cremation urns can speak volumes about the people the cremation urns memorialize, assuring that memories stay alive for generations to come. And one particular beauty of keepsake urns is that they provide a way to memorialize more than one part of a loved-one's personality. By sharing ashes among a variety of different, uniquely designed, keepsake urns, families can assure that all memorable qualities of a person's life remain unforgotten.
Keepsake urns are a relatively new tradition in the memorial industry, but they have the unique advantage of making age-old traditions even better. Keepsake urns are beautiful, personal tools for assuring that a person's memory lasts for the ages. Though they all have the same basic purpose, storing the ashes of the deceased, keepsake urns are also all as unique as the people they memorialize.