A New Trend Is Born Biker & Motorcycle Cremation Urns
Motorcycle urns are not just the newest trend in memorial products, they also appear to be one of the most interesting.
"I've never seen anything … that has drawn that much interest," a Milwaukee funeral director told the Milwaukee Journal-Sentinel in an April 2006 article about motorcycle urns. That director's funeral home has motorcycle urns on display in a "product showcase" that is open for families to explore when they come to the home for funerals and visitation ceremonies of loved ones. The director says the motorcycle urns are one of the most popular features of the showcase. "I've had a gentleman take his wife by the hand and say, 'When I go, that's where I want my remains to go."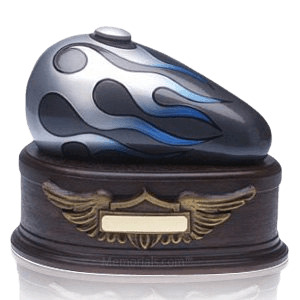 As more and more news outlets focus on the amazing variety of interesting and unique styles of urns available from today's memorial products industry, almost every article mentions the motorcycle urns, perhaps the most interesting and unique of the interesting and unique. Journalists from across the country have written many, sometimes amusing anecdotes, about motorcycle urns. Several reporters have marveled at the fact that many motorcycle enthusiasts – even those who are in their 20s and 30s, very much in their prime of life – have purchased motorcycle urns in recent months and now proudly display them in their homes as "the place where I'm going to end up when I die." While many people might find such a practice worthy of a shudder, motorcycle owners say it's a natural thing. For a rider, a motorcycle is an extention of themselves, and motorcycle urns give the owner the peace of mind that comes with being with his or her pet for eternity.
Motorcycle urns come in a huge variety of colors and styles, but they all have one feature in common: they are shaped like motorcycle gas tanks, rather than some other part of the motorcycle. This is because, experts in the fad say, the gas tank symbolizes the heart of the bike, and it's comforting for motorcycle fans to think of themselves as permanently fueling the heart of a classic motorcycle. That is the image that motorcycle urns bring to life. One manufacturer of motorcycle urns started his company in 2006 and wanted to call his new line of motorcycle urns "Tanks for the Memories," but that name was already trademarked. The company that owns the trademark, interestingly enough, sells a wide variety of motorcycle-gas-tank-shaped novelties – clocks, toilet paper holders, cameras, and even gun safes. But curiously, the company does not sell motorcycle urns. One imagines that is only a matter of time, however.
In today's memorial product industry, there is an urn available to suit just about any taste, lifestyle or interest. There are urns made to memorialize hunters, fishermen, naturalists, pet lovers and even sports fans. But the king of all of the new, unique urns on the market today has to be the wildly popular motorcycle urns. (Interestingly enough, all of the leading manufacturers of motorcycles have, so far, declined to sign deals allowing manufacturers of motorcycle urns to use their trademarked brand names and logos on the urns. Again, that's a situation that seems likely to change eventually.)