Natural Wooden Cremation Vessels Made In America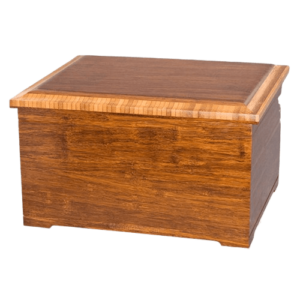 Wood urns are crafted with as much care as the most elegant of home furnishings and make perfect memorials to honor anyone who valued a traditional way of living. Made from any number of natural woods, wood urns make for a special memorial that will preserve a person's memory, beautifully, for generations to come. Wood urns are typically displayed indoors and, besides being a special memorial, they are also designed to add elegance to any interior setting.
Whatever their ultimate destination, wood urns are particularly appropriate for memorializing a loved-one because they can be personalized. Wood urns come in a variety of shapes and styles and can be made from a wide variety of beautiful woods. Among the most popular woods, however, are mahogany, walnut, cherry, maple, oak, pecan, popular, and pine. Wood urns can be carved into any number of scenes or shapes, and they often take the form of beautiful, elegant and sturdy boxes that are either left plain, or decorated with a hand-carved design.
While their special beauty and elegance makes wood urns unlikely candidates to be buried, they do offer long-term environmental benefits for those who are concerned about such issues. Wood cremation urns will typically last for many generations when displayed indoors and cared for properly, but, like wood caskets – their counterpart in the memorial industry – wood urns will eventually degrade hundreds, or even thousands, of years before urns made of more durable materials such as steel or glass. It is for this reason that wood urns may be most attractive for loved ones wanting to acknowledge the "ashes to ashes" concept discussed in the Bible.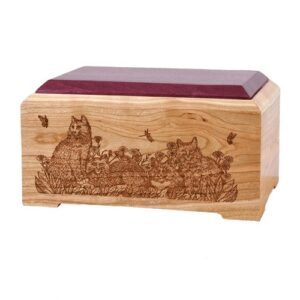 Wood urns capture the essence of old-world traditions, such as strong family values and having a strong faith. They are often adorned with heavenly images, such as crosses, doves or even saints. While that is so, there are countless urns that feature heartwarming country scenery. A more modern twist on wood urns are those that feature beach landscapes or even sport activities. One of the most attractive traits that wood urns offer is the natural grain pattern of the material. Some of the most sought after wood urns are those that are carved and shaped into traditional vase shapes. What makes these vessels so special is that they showcase the natural pattern that the grain creates, make
Whatever the shape, wood urns are all manufactured with the greatest of care. Wood urns require a craftsman's special touch and they are often formed from wood working techniques that are hundreds (or possibly even thousands) of years old. This connection with age-old traditions assures that woods urns always, have a timeless quality that is so important for a lasting memorial. Timeless production processes along with artwork that will surely stand the test of time, are what make wood urns an excellent choice for many people wanting to give their loved-one's memories a special touch.
Wood urns are a fine, popular choice for people who want the beautiful, elegant, memorial that will assure a loved-one's memory will last for generations to come.