Protecting and Preserving for Eternity
Infant urns, because of their very nature, are probably the most important urns made and sold in the memorial industry. Much more than just miniature versions of standard-sized cremation urns, infant urns are specifically designed to be a particular comfort for family members who have lost an infant or child and, accordingly, suffered one of life's most difficult tragedies. Infant urns are available in a huge variety of designs and styles, all of which aim to preserve an infant's lost childhood perpetually. Infant urns typically come in bright, innocent, happy, child-like themes designed to comfort any family. But these themes of childhood are also carefully mixed with more serious décor on infant urns in order to assure that the special infant is remember with dignity for generations to come.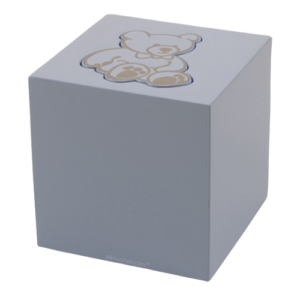 These smaller urns serve to not only protect the remains of the lost child, but also provide a gentle reminder of the love felt for him or her. These beautiful urns are available in a vast number of styles, which range from light-hearted themes, to artistic infant urns, or even include religious figures. This allows families to select an urn that best suites their taste or needs. Urns that showcase a those light-hearted themes, such as bunnies in a beautiful green meadow or a highly-detailed teddy bear, are meant to capture the the playful nature of children that is so uplifting.
On the other hand, some families find that a sophisticated, hand-crafted urn which is made of ceramic or glass, is better option because they offer a somber yet dignified remembrance. Of course religious infant urns are always comforting because they are a wonderful symbol that not only is the infant in a better place, but they are also a little angel that will always be with those they love in spirit. These are the most popular, but only a small example of the variety of styles offered for urns for infants.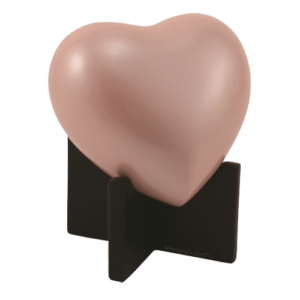 As with all styles of urns, infant urns are available in a wide variety of materials. Bronze, metal (such as brass or pewter) and wood offer the most sturdy urns but usually feature a more traditional design. While that is so, these urns can also be personalized with either direct engraving, or for those who cannot be engraved, the addition of an engraving plaque or hanging medallion. Alternatively, glass and ceramic urns offer a greater versatility as far as shape and design go. These artistic pieces usually feature rich, bold colors and unique designs. Because of their hand made nature, they are sure to be as unique as the infant or child that they memorialize. The décor of infant urns is typically a timeless, beautiful reflection of the family that has been affected by the death. This, accordingly, helps assures that memories can stay alive for the ages.
For centuries, cultures have made distinctions between urns design for infants and those intended for adults. Infant urns have long had the special-but-complex role preserving childhood's remarkable innocence while lifting the lost child's dignity into eternity. Infant urns are, therefore, perhaps the most beautifully complex memorial products the world has known.